Altan + Tim Edey
Come and Celebrate St Patrick's Day with Altan + Tim Edey!
The spirit and sound of Altan comes from the deep and rich musical tradition of their native Co. Donegal. The Irish folk band was formed in 1987 by lead vocalist Mairéad Ní Mhaonaigh and primarily influenced by traditional Irish language songs from Donegal. Altan were the first traditional Irish group to be signed to a major label when they joined Virgin Records in 1994. Since then they have sold over a million records and collaborated with the likes of Dolly Parton, Enya, The Chieftains, Bonnie Raitt, Alison Krauss, and many others.
Special Guests:
17th March – Altan + Tim Edey – SOLD OUT!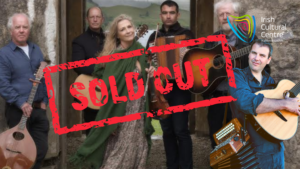 This gig is now sold out, but we still have tickets left for:
18th March – Altan + The Wilderness Yet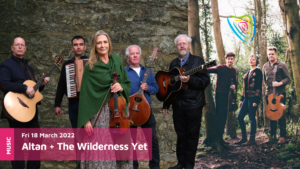 Thu 17 March 2022
8:15pm
Tickets: £25 / £22.50
Their first album, simply titled 'Altan', was released in 1987 and quickly followed by Horse with A Heart, which saw the inclusion of Paul O'Shaughnessy on fiddle. Paul had joined the band on its first US tours, lending his stunning virtuosity and in-depth knowledge of the Donegal style. He performed on the subsequent three albums. In 1992, the album Harvest Storm brought with it Dáithí Sproule on guitar, himself one of the pioneers of guitar in Irish traditional and folk music, having played with the wonderful Skara Brae with the O'Domhnaill family and Buncrana native Ciaran Tourish who excelled in fiery counterpoint fiddle.
One of the band's finest hours came with the release of Island Angel in 1993, which was recognised by Billboard World Music Charts as the second biggest selling world music album globally in 1994 and in the same year, Altan performed for Bill Clinton at the White House. The band would play for US Presidents over the course of their career as well as accompanying Irish Presidents on their state visits. Shortly after the release of this album, the legendary accordionist Dermot Byrne joined the band.
A record deal with Virgin Records followed in 1996, which catapulted the band on an extensive touring schedule over the subsequent decade. This period saw them working with many of the great American performers such as Dolly Parton, recording on her album Heartsongs (1994) and its follow up, Little Sparrow 2001; she returned the favour on the band's record The Blue Idol in 2002 by dieting with Mairéad on the song The Pretty Young Girl.
The band have travelled with President Mary MacAleese and President Michael D. Higgins on state visits abroad to Japan, North Korea and Italy. President Higgins invited them to join him in his residence, Áras an Uachtaráin in 2018 to celebrate their 30 years as a band. The Donegal County Council held a civic reception in their offices to mark the occasion in May 2018. In 2006 the Irish Government also honoured Altan by putting them on an official postal stamp to celebrate their contribution to the Irish culture one of the highest honours to be bestowed on an Irish citizen .
Martin Tourish a past TG4 Young Musician of the Year, took the accordion seat in late 2013 and the band recorded their album The Widening Gyre in Nashville with many of the great Bluegrass and American performers, such as Mary Chapin Carpenter, Jerry Douglas and Alison Brown. This album explored the connections between Irish and Bluegrass music, a particularly special moment of which was performing at The Grand Ole Opry with Ricky Skaggs in 2016.
In 2017, the band released their first book, Altan: The Tunes, based on a collection of 222 melodies that they collected recorded over their 30 year history. Martin Tourish transcribed the dance music and meticulously interviewed all the band members for additional stories and back- ground information. Containing a detailed commentary on each of the tunes, it is the only collection of Donegal music currently in print.
Mairéad Ní Mhaonaigh was awarded Donegal Person of the Year in 2008 and the coveted TG4 Gradaim Ceoil (Music Award) 2017, for her musicianship and singing. The highest accolade which a traditional musician can receive in Ireland. In celebration of the band's latest album, The Gap of Dreams, the band has brought their music all over Europe and Ireland, the US and Canada, Japan, Australia and North Africa.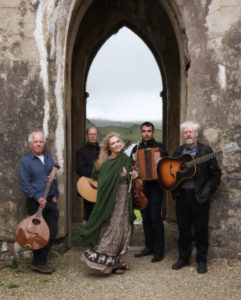 The latest album celebrates the roots of their music in Donegal folklore. It was recorded in the Attica Studios in the mountains of Donegal which contributed to a wonderful atmosphere which permeated throughout the recording. The title refers to that 'gap' or 'door' between this and the 'other world.' The older fiddlers , whom they got their music from, always associated with the "other world" as the source for their music and inspiration. They would describe poetically about encountering the fairy folk or listening to tunes on the wind or on the shore listening to the sound of the waves. In creativity the 'Gap of Dreams" is never shut.
Reviews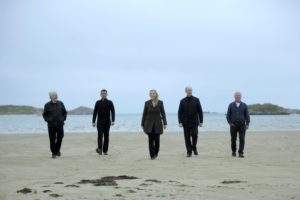 THE HOTTEST BAND IN THE CELTIC REALM" – The Boston Globe
"A MATCH MADE IN HEAVEN" and "THE BEST TRADITIONAL IRISH BAND"
– Dolly Parton on her collaboration with Altan on two of her albums Heartsongs (1994) and Little Sparrow (2001).
'Altan's music has always been true to the roots from which it has grown, always injecting something new as they approach a set of tunes, or something beautiful when Mairead's voice floats over slow air or a love song. This new album combines all of the freshness that is characteristic of this great band, together with a rare depth and purity that can only come from the souls of superb musicians.'
– Bill Whelan, composer of Riverdance
'Scholarly sophisticated, equally spontaneous in session or in studio, Altan, once more, enliven their great tradition, confound our expectations and draw us all home to Donegal.
The music of Altan is as bright as the Donegal air, as fierce as its winds, as beautiful as its landscape. It has been that way since the beginning, over a quarter of a century ago. Unerringly at the core of an extraordinary tradition, the band continues to breathe freshness and vitality into tunes and songs that are the quintessential expression of its native place. What a wonderful place. What wonderful music.'
– Stephen Rea, Irish actor of 'The Crying Game' ; 'Michael Collins' on Altan
Special Guests on 17th March – Tim Edey 
Tim Edey is one of the world's finest guitarists and melodeon players – he also plays a variety of other instruments to an astonishing level, including piano, banjo and whistles. In addition to this, Tim has a superb singing voice.
Since the lockdown of 2020, Tim has provided an incredibly popular show on his Facebook page, entertaining thousands of happy music lovers each Saturday night.
With a recent BBC ALBA/SCOTLAND Best musician nomination (already a multiple award winner) Tim will release a much anticipated record based on popular gypsy jazz, classics & celtic jazz featuring Natalie MacMaster, Donnell Leahy, Michael McGoldrick & Patsy Reid in January 2021!
Tim's live solo shows are a stunning mix of world music inspired instrumental virtuosity and passion, audience chorus line, but above all Tim is a highly entertaining musical genius. He was BBC Radio 2 Musician of the Year 2012 at the BBC Radio 2 Folk Awards (multi- instrumentalist and singer).
Artists Tim has worked with include: The Chieftains (being their guitarist & accordionist of choice for the last 8 years), Dougie Maclean, Christy Moore, Eddi Reader, Shane McGowan, Ry Cooder, Paul Brady, Sharon Shannon, Julie Fowlis, Capercaillie, Michael McGoldrick, Clive Carrol, Liam O'Maonlai (Hothouse Flowers), Ewan Vernal (Deacon Blue), Mary Black, Natalie MacMaster, Altan, Brendan Power, Mike Harding, Seamus Begley and Frankie Gavin – and so many more…..  Tim has appeared on many occasions on Jools Holland plus many other International TV and Radio shows.
Interested in Music?
You may also like