Award Winning Poet Martina Evans, in conversation with Dorothy Allen
The ICC is delighted to present one of Ireland's greatest female Poets, Martina Evans, in conversation with Dorothy Allen
Thu 25 May 2023
Doors: 7.00pm; Starts: 7.30pm
Tickets: £8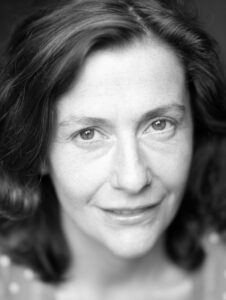 Martina Evans is an award-winning Irish poet, novelist, journalist and teacher. She grew up in the village of Burnfort, in County Cork, Ireland, where her family ran a shop with a bar and a single petrol pump. She was the youngest of ten children, all of whom shared the duty of staffing the small shop. Evans fell deeply in love with literature at age three, occasionally to the detriment of her attention to the customers. Her mother, despite a limited education ending in primary school, was a major inspiration for this passion for reading: she touted the superiority of books to television and interspersed Shakespeare quotes into her daily conversation. The young Evans turned to books for both edification and rebellious escapes into fiction, sneaking her current reading into missals during her years at convent boarding school.
Although Evans dreamed of pursuing English literature, her family encouraged her to become a radiographer. She trained in Dublin and moved with her husband to London in the early 80s, slipping in some literary studies at the Open University along the way. She worked at Whittington Hospital for 15 years, writing on and off in spare moments, until the death of her father in 1988 uncorked a sudden outpouring of poetry. She began attending Torriano Meeting House's poetry readings in Kentish Town, where she found an early poetic community, and devoting her evenings to composing her first novel. The plan was that, once established as a successful novelist, she would leave her job to write poetry: a strategy inspired by the literary itinerary of Patrick Kavanagh, one of her favourite writers, who wrote two short novels and segued neatly into a career as a poet.
Evans' first poetry collection, The Iniscarra Bar and Cycle Rest, was published in 1995, and her debut novel, Midnight Feast, in 1996. Midnight Feast won a Betty Trask award, and Evans was awarded a two-book contract for further novels. But even as she made a name for herself in the fiction world, she felt impelled toward poetry and hemmed in by the expectation that she keep writing prose. Between the novels, books of poetry insisted on being written—and soon, they were garnering praise of their own. Accolades for her poetry collections include the Ciampi International Poetry Prize; recognition as a Poetry Society Book Choice and a Times Literary Supplement Book of the Year; and Grants for the Arts, Irish Arts Council, and Arts Council England awards. Evans' book of poetry, Now We Can Talk Openly About Men (2018), was named one of the Books of the Year by The Observer, TLS, and The Irish Times, and shortlisted for the 2019 Irish Times Poetry Award and the Pigott Poetry Award. Her collection 'American Mules' (Carcanet 2021) won the Pigott Poetry Prize 2022 and was a TLS and Sunday Independent Book of the Year.
In addition to her writing, Evans has taught seminars and workshops at many institutions, including London Metropolitan University, Kingston University, University of East London, Birkbeck University, Goldsmiths, and the City Literary Institute, and numerous international literary festivals. She has held two Royal Literary Fund fellowships at Queen Mary, University of London and has performed her work at venues worldwide. Evans currently serves as a Royal Literary Fund Advisory fellow and a poetry reviewer for the Irish Times. She lives in London with her daughter, Liadáin.
About Dorothy Allen: 
Dorothy is an award winning journalist, currently the London correspondent of Swiss magazine Tierwelt. She is a former BBC reporter, working in documentary programmes for television (Brass Tacks; Panorama) and radio (File on Four). As a print journalist, she won a Feature Writer of the Year award while reporting for the Burton Daily Mail. She has also written a weekly television review column for The Tablet magazine. Dorothy is a former Vice Chair of the Irish Literary Society. Dorothy is also a key member of the ICC Irish Literature Programming team.
Learn more about Martina Evans
Interview in The Irish World Newspaper with Journalist Michael McDonagh.
Text: Evans writes about growing up with books instead of television
Video: A reading by Evans from her prose poem "Petrol"
 RTE RADIO: ARENA PROGRAMME March 2021
INTERVIEW WITH OLIVIA O'LEARY ON THE POETRY PROGRAMME April 2021
What the Press says about Martina Evans Poetry collection 'American Mules'.
AMERICAN MULES
A Times Literary Supplement Book of the Year 2021
A Sunday Independent (Ireland) Book of the Year 2021
Winner of the 2022 Pigott Poetry Prize
A Masterclass in transforming the materiality of life into poems that are both funny and profound — Times Literary Supplement
Evans will not give in to easy effects or even a singing line. It is all crosstalk, undertone, interruption, pure hilarity, like someone telling a story, like someone thinking. And somehow out of what feels like raw life comes a register that is often luminous….At page 100 we have been engaged by a rich sensibility, and a poet with an astonishing technical confidence who know how to turn a poem or leave a reader unsure where the emotion is coming from. Feeling in these poems is subtly placed and managed. It is hard to see what more Evans can do with the fifty pages. The answer is Mountainy Men, a bravura piece, filled with incident, tension, verbal excitement…Slowly a poem that seems animated by random thoughts and images, takes on a strange, concentrated power; the lines begin to feel like pure style, the narrative voice holding and wielding the hidden energies which Martina Evans consolidates, and then releases with such energy and confidence and verve. — Colm Tóibín, Poetry Ireland Review
American Mules by Martina Evans is a glorious collection of poems, two books within one, an astonishment of riches. How she melds narrative audacity with sharp insight and juicy lyricism is so memorable. It's a book that gets into your heart. These poems echo and shimmer. I'll be looking forward to returning to this wonderful volume at a slower summertime pace. — Joseph O'Connor, Irish Times
Martina Evans's American Mules, a scintillating poetry collection from a unique, deeply observant, beautifully compassionate consciousness which creates a fully realised world of its own. — Catriona Crowe, Irish Times
HARRIET'S BOOKS, reviews AMERICAN MULES ON POETRY FOUNDATION
Striking powers of social observation… every single adjective attentively exact… Without straining for effect, she mixes pity with horror – and a repeated theme of fallibility. Evans's great gift, though, is for storytelling combined with a music that says to the reader or listener, these things are connected – here's how.
— Fiona Sampson, The Guardian
Martina Evans is that rarest of rara avis, a poet whose work is at once serious and authentically enjoyable.  Evans is working now with more brio and fearlessness than ever before. American Mules is a book of splendours and will surely count among her very best.
Conor O'Callaghan, The Irish Times