Cabaret Comedy
The Cab @ ICC
Join us for a fabulous night of cabaret, music, comedy & good craic!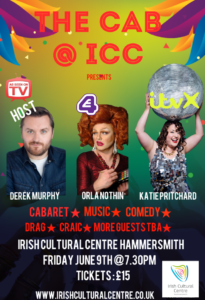 Fri 09 June 2023
Doors: 7pm; Starts: 7.30pm
Tickets: £15
Derek & Orla:
Real life couple and Comedy Duo Derek & Orla burst (fabulously of course) onto the scene with their comedy Webseries 'Derek & Orla Do' which has gone on to win awards at the 'New York Movie Awards', as well as placing as a semi finalist at 'The London International Web Festival'. It has also been part of the official selection at the 'Hollywood Gold Wards' in Los Angeles and 'The Lift Off Sessions' at Pinewood Studios London, amongst a number of other festival selections.
The duo have been sent off galavanting around North England for 'Buzzfeed & The Huffington Post' for their travel series '36 hours in..' and starred in 'Iris Live' for the 'Iris Prize Festival in conjunction with Channel 4' aswell as appearing in Pride in London's Film '#ALLOURPRIDE' featured on the BBC and directed by Dionne Edwards.
They regularly appear on London's Cabaret circuit, performing in venues across the capital and further afield. 
Orla has appeared on TV shows such as 'Say Yes To The Dress' with Gok Wan and 'Queens of Clean' on 'E4' 
And Derek can regularly be seen across stage and screen including 'RTE' & can currently be seen in feature film 'Coast Road'(Amazon).
Katie Pritchard:
Katie is a multi award-winning comedian, actor, musician, writer, and artist. In 2022 Katie took her solo debut comedy show 'Disco Ball' to Edinburgh Fringe winning rave reviews and sold out audiences. Famous for her high-octane musical comedy featuring memorable costumes, chaos and pumping choons; 'Disco Ball' was brought to The Pleasance London in November and featured on NextUp and ITVX. 
WINNER Musical Comedy Awards
WINNER 2Northdown New Comedian Competition 
As seen on Harry Hill's Clubnite (Channel 4)
As seen on ITVX, NextUp, Pulped, and Channel 4
★★★★★ "Katie Pritchard is a one woman comedy music powerhouse." – VoiceMag
★★★★ "A musical bonanza like mixing every possible variety of Walker's Crisps in a bowl and eating them with chocolate" – Mumble
★★★★ "Katie Pritchard is a force of nature!" – one4review
★★★★ "Will have you shaking from laughter" – Broadway World
★★★★ – Mervyn Stutter's Pick of the Fringe
"An explosion of joyful lunacy" – Shortlist
Frankie Heartless
Frankie Heartless is South London's rockstar violinist. Having trained as a classical violinist and singer, they now prefer to play folk and rock music on their 5 string electric.
Frankie often performs as a Drag King and as an actor musician.