Fintan O'Toole in Conversation with Dermot Bolger
Fintan will be in conversation with fellow author Dermot Bolger discussing his most recent publication, We Don't Know Ourselves: A Personal History of Ireland Since 1958 (2021) which attracted two prizes at the Irish Book Awards last year, An Post Irish Book of the Year and Best Non-Fiction Book of the Year.
Fintan O'Toole – Ireland's leading public intellectual and author of Heroic Failure – tells a history of Ireland in his own time – a brilliant interweaving of memoir and historical narrative.
Mon 18 July 2022
Doors 7.00pm, Starts 7.30pm
Tickets: £10/£8
About Fintan O'Toole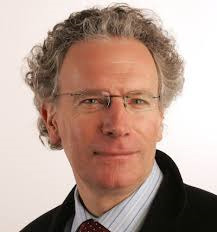 Fintan O'Toole is a historian, biographer, literary critic and political commentator.  In addition to his weekly column for the Irish Times since 1988, he has written over 20 books across a wide range of subjects including Tom Murphy, Shakespeare, William Johnson, Richard Brinsley Sheridan and George Bernard Shaw.  He is one of Ireland's most respected cultural commentators and his investigative, polemical books include Meanwhile Back at the Ranch: The Politics of Irish Beef (1995), Ship of Fools: How Stupidity And Corruption Sank The Celtic Tiger (2009),  Enough is Enough: How to Build a New Republic  (2010), Up the Republic!  Towards a New Ireland (editor) (2012), Heroic Failure: Brexit and the Politics of Pain (2018), and The Politics of Pain: Postwar England and the Rise of Nationalism (2019).
Since Fintan's first award in 1993 for the AT Cross Award for Supreme Contribution to Irish Journalism, his work has continued to attract critical acclaim.  In 2014 he won the LGBT Gala Award for Journalism and in 2017 he won both the European Press Prize for Commentary and the prestigious Orwell Prize for Journalism for his coverage of Brexit.  In the same year he won the NewsBrands Ireland Journalism Awards Broadsheet Columnist of the Year, a success he subsequently repeated  in 2018 and 2020. He is a member of the Royal Irish Academy and throughout his distinguished career he has received honorary doctorates from Queen's University Belfast, NUI Galway and Trinity College Dublin. He is currently Professor of Irish Letters at Princeton.
About Dermot Bolger
Dermot Bolger is a journalist, editor, publisher and one of Ireland's best known and most prolific authors.  He has written 14 novels, including The Journey Home (1990), Tanglewood  (2015)  and An Ark of Light (2018).  He devised the best-selling collaborative novels Finbar's Hotel (1997) and Ladies Night at Finbar's Hotel (1999).   He has written 29 plays, most recently Morning Coffee (2022). He has produced 11 collections of poetry including The Venice Suite: A Voyage Through Loss (2012) and he has edited 12 books including The New Picador Book of Irish Fiction (2000).
Dermot established Raven Arts Press in 1977 and he subsequently helped co-found New Island Books, currently one of Ireland's leading publishers. Positions held include Writer Fellow in Trinity College, Dublin, Playwright in Association with the Abbey Theatre, Writer in Residence at the National Museum of Ireland and Fellow at the Civitella Ranieri Foundation in Italy.  He is a regular contributor to the major Irish newspapers and he has written for The Guardian, The Observer and Le Monde.
Dermot's work has attracted many awards, including the AE Memorial Prize and the Macaulay Fellowship. His play, Lament for Arthur Cleary, won both the Samuel Beckett Award and the BBC Stewart Parker Award. His play From These Green Heights won the Irish Times ESB award for Best New Irish Play. He was named Commentator of the Year at the 2012 Irish National Newspapers Awards and in 2019 he was awarded the Anthony Cronin Award. Secrets Never Told was his first collection of short stories, one of which, Supermarket Flowers, was shortlisted for Short Story of the Year at the An Post Irish Book Awards 2020. In 2021 he was the recipient of the Lawrence O'Shaughnessy Award for Poetry.
Dermot's most recent publication is his collection of poetry, Other People's Lives (2022).