The Lost Brothers & Christine Tobin – Live in Concert
With music from The Christine Tobin Trio and The Lost Brothers
The ICC will host 'The Christine Tobin Trio' and 'The Lost Brothers'
Fri 04 February 2022
8:00pm
Tickets: £30
More about the event:
The concert will be in honour of former manager of The Pogues, Kirsty McColl, The Mighty Stef, The Frames.. tour manager for Thin Lizzy, The Clash, The Specials & Elton John – Frank Murray.
A sculpture commissioned in his memory – "Scaradh", by Michael Quane, will also be unveiled in the after and will  be on display for all to see.
For the uninitiated, Frank was a seminal figure in Irish rock music, who first came to prominence as a key member of the Thin Lizzy camp. For many years, he was the band's tour manager and worked closely alongside Philip Lynott. When his involvement with Lizzy ended, Frank took on a similar role with Elton John and The Specials and, later on, he managed The Frames, overseeing their signing to ZTT Records; Kirsty McColl; and most famously, The Pogues.
He was centrally involved in the conception of what is the greatest Christmas song of them all, bringing Kirsty McColl (since deceased) on board to work with The Pogues on the magnificent 'Fairytale of New York'.
A highly intelligent and cultured individual, along the way he also managed Rí Rá and the late Bap Kennedy. He spent over half a decade in the US, where he worked in theatre and movies, acting as Executive Producer on the highly rated Come On Eileen, which starred Noel Fielding, Mercedes Grower, Julia Davis and Keith Allen. More recently, he had managed The Mighty Stef and The Lost Brothers and he was also involved in the career of Temper Mental Misselayneous.
[From Hotpress Magazine – Learn More About Frank Murray!]
ABOUT THE MUSICIANS: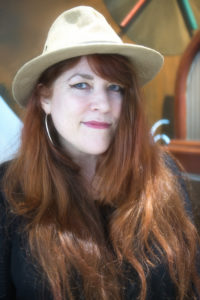 'The Christine Tobin Trio' (with Christine Tobin – 'Tower of Song';  Phil Robson on guitar & Dave Whitford on double bass). Christine Tobin, the Dublin born and raised, multi-award winning vocalist and composer is now based in Northwest Roscommon, having been an integral part of both the New York City and London scenes for many years. Within her kaleidoscopic musical palette, she can be junkyard blues philosopher, snappy beat seductress, a conduit for exquisite zen-like harmonies or reflective Americana.
Her authentic sound was described by The Guardian as "Tobin's 24 carat voice" while praising her both for the poetry of her compositions and the warmth of her golden voice. Her style, although rooted in jazz, is eclectic and draws on a broad range of influences. MOJO Music Magazine said of her "Christine Tobin really transcends glib genre-fication. Her expressive range acknowledges finely acquired folk, jazz and 20th-century classical influences, which already sets her apart. And everything is shot through with an unmistakable refinement, free-spirited earthiness and giddy romanticism, this singer-songwriter is in a field of one."
She has led various projects and in 2012 "Sailing to Byzantium", her settings of WB Yeats poems featuring actor Gabriel Byrne, won a British Composer Award. The following year she won a "Herald Angel Award" at the Edinburgh Festival for her show "A Thousand Kisses Deep", her imaginative versions of Leonard Cohen classics. In 2014 she won "Jazz Vocalist of the Year" at the Parliamentary Jazz Awards. Earlier in her career Christine won "Best Vocalist" at the 2008 BBC Jazz Awards. Her last album PELT was Tobin's musical interpretations of Pulitzer Prize winning Paul Muldoon's lyrics and poems. Tobin was also a regular guest in his hit series 'Muldoon's Picnic' in NYC.
Her vivid interpretations of Bessie Smith were featured in film director Mike Figgis' "Red White and Blues" docu/film in the 'Martin Scorsese Presents The Blues' PBS series. Christine has also presented special features for BBC Radio 3's cutting edge program Jazz On 3 and appeared regularly on Jazz Library also for BBC Radio 3. She has contributed to programs about Billie Holiday, Bessie Smith, Abbey Lincoln, Betty Carter, Joni Mitchell and Carmen McRae. The special documentary program she presented for RTE Lyric FM "Out with Paganism", was a Silver Radio Winner at the New York Festivals – 2013 World's Best Radio Programs.
In New York City she created, co-curated and performed in the highly successful series "Tobin's Run On 51" at the Irish Arts Center with guitarist partner Phil Robson. These were themed, mixed media shows which featured slideshows, film clips, storytelling and invited guests who comprise of some of the greatest musicians on the NY scene today including Ingrid Jensen, Steve Wilson, James Genus, Billy Drummond, Craig Handy, Janis Siegel to name just a few as well as renowned authors such as Ashley Kahn.
Tobin has played at the most important venues in NYC such as Birdland, The Jazz Standard, Mezzrow, National Sawdust etc as well as in concert halls, clubs and international festivals around the world.
The Lost Brothers. Regarded as one of the best musical duos to come out of Ireland, Oisin Leech and Mark McCausland, from Meath and Tyrone, have been making music together since 2007. Their sound is inspired by a range of influences that include the writings of Patrick Kavanagh, the music of Billie Holliday, and the paintings of Jack B Yeats.
The Guardian described their most recent album, 'After The Fire After The Rain', as 'sublime' while The Irish Times stated that the album was 'deeply soulful' including it in their albums of the year.
BBC 6 Music celebrated the album with legends like Iggy Pop and Steve Lamacq sending the songs out over the airwaves. BBC 6 also awarded it 'Album Of The Day' upon its release.
Pre-production for the music took place in Dublin with Stephen Shannon (Iarla O'Lionard) – the album was then recorded in Brooklyn NYC with Tony Garnier (Bob Dylan's long time musical director) and Daniel Schlett (Bonnie Prince Billy) at the production helm. The release features guest appearances from a range of artists including M Ward, Jolie Holland, Steve Wickham, Mike Coykendall and Howe Gelb.
The album was also shortlisted for the Northern Ireland Music Prize and awarded 'Album Of The Week' at RTE Radio 1. In 2021 the band headlined Union Chapel London and sold-out the prestigious Vicar St. in Dublin as part of a full re-scheduled tour.
Over the years the band have toured and shared stages with the likes of Richard Hawley, Billy Bragg, Martha Wainwright and Paul Muldoon. They've performed internationally from Glastonbury to South By Southwest.
The Lost Brothers continue to forge a singular path and a weave a sound that it completely their own.
Opening the concert will be the London-Irish singer songwriter Leeson O'Keefe , former lead singer with Shane MacGowan's band THE POPES and lead singer with Irish Punk Rock Band  Neck.
In the afternoon the unveiling of 'Scaradh' a sculpture in memory of Frank Murray, by irelands great Sculptor Michael Quane, will take place. It will be on display in the foyer for all of the audience to view.
A short film 'Scaradh – Departure' directed by Sé Merry Doyle  will also be premiered in the cinema in the afternoon – and it will be available for all of the audience to view (upstairs), every half hour from 5pm until 7.30pm.
PRESS REVIEWS
Reviews of Christine Tobin
"One of the most gifted and original singer/songwriters in today's jazz world." – BBC MUSIC MAGAZINE
"She's got one of those voices that can move from pure, pastoral-edged folk whimsy to big angry blues mama in a single phrase; from world-weary interpreter of show tunes to howling rock diva within a single note……………one of the finest vocal jazz collections in years." – TIME OUT
Tobin's vocals, veering from acrobatic to sultry, are tailored perfectly for the material, her evocations of time and place precise. Classy and lovely." – THE OBSERVER ****
"There's a thrilling, dark timbre to Tobin's voice that moves you like no other singer." – THE GUARDIAN
"Christine Tobin is as revelatory an interpreter of Yeats as Richard Ellmann or, indeed, Louis MacNeice. She has an uncanny ability to become a vehicle for the text of a poem in a way that would have sent a shiver of recognition through the great man himself." – PAUL MULDOON
"…Tobin, has carried off that rare feat of setting poems, in this case those of William Butler Yeats, to music and making the results sound like natural songs with emotional impact, melodic hooks and ecstatic refrains. …. by turns yearning, bucolic, elegiac, apocalyptic and deliciously romantic, and draws on the folk and European art song traditions as much as Tobin's jazz background." – HERALD SCOTLAND, SUNDAY HERALD, ROB ADAMS
Reviews of The Lost Brothers
Simon and Garfunkel reborn in the desert- the harmonies are exquisite." ⭑⭑⭑⭑ UNCUT
"As sincere and lyrical as any track by Leonard Cohen." ⭑⭑⭑⭑ HOT PRESS MAGAZINE
"Sounds like Nick Drake singing songs in the firelight " ⭑⭑⭑⭑ NME
'PURE MAGIC' ROLLING STONE
'A duo at the top of their game' THE SUNDAY TIMES
⭑⭑⭑⭑ THE GUARDIAN 
⭑⭑⭑⭑ IRISH TIMES
⭑⭑⭑⭑ MOJO
⭑⭑⭑⭑ RECORD COLLECTOR
RTE Folk Awards – Best Album and Best Group Nominees