Three of Ireland's Top Musicians – Matt Molloy, Seán Keane & Brian McGrath
Join us for an incredible night of music with three of Ireland's most superb musicians – Seán Keane, Matt Molloy and Brian McGrath!
Renowned to lovers of Irish traditional music, flute player Matt Malloy has been a member of groups such as 'The Chieftains', 'The Bothy Band' and Planxty and is one of Ireland's best known and most highly regarded musicians; Joining him is his fellow 'Chieftain' the magnificent fiddle player Seán Keane and completing the line up is the phenomenal banjo, guitar and mandolin player Brian McGrath, former member of 'De Dannan', 'At the Racket' and 'The Seán Keane Band'.
Sat 30 April 2022
Doors 7.30pm, Starts 8.00pm
Tickets: £20/£18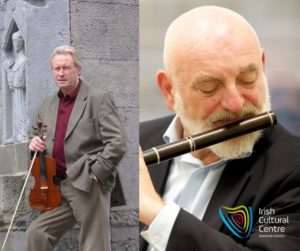 About Seán & Matt: 
Dubliner Seán Keane was surrounded by traditional Irish music from an early age. Both parents were traditional fiddlers and he began playing the fiddle at a young age. He attended Dublin School of Music where he received classical training, but soon became one of Ireland's most talented young fiddlers, winning awards and such honours as the All-Ireland Championships, from which he earned the title of master fiddler.
A member of Ceoltóirí Cualann in the 1960's, Seán also performed with some of the trios and duets formed by Paddy Moloney in the 60's. It was 1968 before he joined The Chieftains on invitation from Paddy.
He has recorded a well received solo album, 'Seán Keane' and a duet album with fellow Chieftain Matt Molloy, 'Contentment is Wealth'. He has also recorded with Mick Moloney and his brother, James Keane on the album 'Reel Away the Real World' in 1980.
Matt Molloy was born in Co. Roscommon, into one of the long lines of flute players for which the area is famous. He learned flute and whistle from his father, was playing in the school fife and drum band at the age of eight and by eighteen had won first prize in the major traditional music competitions. He moved to Dublin in the early 1970's to work for the Irish national airline as an engineer. He started playing in the music scene where he first became acquainted with Paddy Moloney. Matt co-founded The Bothy Band with Donal Lunny, and they recorded four albums in as many years, all highly regarded to this day. In his own words: "We made great music and had a great time but financially we were a bit of a disaster. We had too much of a good time!"
Following the group's demise, Matt joined the reformed Planxty before finally becoming a member of The Chieftains in 1979. In addition to his group work, Matt has featured on many other albums and was featured soloist with the Irish Chamber Orchestra on the centrepiece of composer Micheal o Suilleabháin's album 'Oileán/Island'.
About Brian McGrath: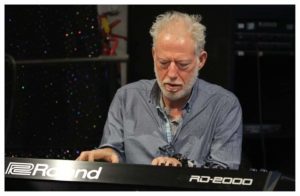 Brian McGrath comes from Brookeborough, Co. Fermanagh, an area steeped in traditional music. Brian's first professional work was with Dervish. He then joined Four Men And A Dog and played on the award-winning album Barking Mad. He moved his career on, accompanying Noel Hill, Paul Brock and Frankie Gavin, among others, before joining the Sean Keane Band as pianist. Brian joined De Dannan where he stayed till the band broke up in 2003. Brian now plays with At The Racket, and is much sought after as a session musician on piano, banjo and mandolin. He has toured extensively, playing with all the biggest names in Irish traditional music, including Frankie Gavin, Noel Hill, John Carty, Matt Molloy, Paul Brock, Charlie Lennon, Joe Burke, Sean Maguire, Brian Rooney, Cathal Hayden, Joe Derrane, Arty McGlynn, Alec Finn, Alan Kelly, Dolores Keane, Maura O'Connell, Tommy Fleming, Steve Cooney and Eleanor Shanley, as well as doing extensive TV and media work.