Spring Exhibition 2022 – A Collection of New Paintings by Irish Artists
by The Barbara Stanley Gallery
To welcome in the brighter days of this Spring season, we invite you to attend a special Mixed Group Exhibition, featuring new paintings by Brian Ballard, Cloe Cloherty, Margaret Egan and Derek Fitzpatrick.
A selection of paintings by the exhibiting artists can be viewed at the ICC Monday -Friday 9-5pm and other times by appointment.
For further information please contact :
Email: [email protected] Tel:0044 (0) 7775524414
In collaboration with The Barbara Stanley Art Gallery and Irish Cultural Centre, Hammersmith.
To view the collection online  – Click here
Mon 16 May - Tue 12 July 2022
FREE!
About Brian Ballard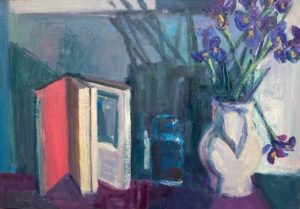 Born in Belfast in 1943 and trained at the College of Art in Belfast and Liverpool, Brian Ballard balances his time in Belfast with that at his retreat on the Donegal island of Inishfree.
Ballard's contemporary approach to painting alternates between figurative treatment of nudes, landscape and expressionistic still life, all of which he practices in equal measure and intensity. His work can be found in many collections including The Arts Council of Ireland, A.I.B., Crawford Municipal Gallery Cork, The Ulster Museum, The National Trust, Waterford Wedgewood PLC and Irish Rock Legends U2.
Ballard's work is emotional, intuitive and expressive, yet firmly portrays the subject before him. Each canvas possesses a strength of intimacy and immediacy that prompts quiet admiration from the viewer. Every individual painting is a timeless chronicle of found objects, the human figure or the natural world. Captured elements are marshalled into an order chosen by the artist and then crystallised to offer a creative impression of a familiar subject. Brian Ballard's work is marked by purity of expression and fidelity to nature as he witnesses it.
About Cloe Cloherty
Born of Irish parents in 1964, Cloe graduated from Goldsmith's College, London with a degree in Fine Art and History of Art. Prior to working full time as an artist, Cloe spent time travelling abroad where she worked on film sets. This led to a spell as a scenic artist on productions including Indiana Jones, Batman and Hamlet. The two main subjects that Cloe deals with are landscapes and nude drawings and oil studies. Although using very different techniques, they aim to do the same thing – to capture a 'moment' without losing the immediate intensity of a fleeting glance and with an innate knowledge of the subject. In her landscapes, Cloe draws on the Irish countryside and coastline and is inspired by the West Coast and Donegal. She applies bold thick strokes of paint to the canvas using a palette knife, which further enhances the energy, intensity and beauty of her images. Her nude studies are an expression of the human spirit, a response to the human condition in all its forms; soulful, solitary and brooding.
She always works from life, as it is the dynamic of working with the model that feeds the emotional concentration. Cloe paints with great passion retaining the vitality and engaging with the energy of the model through her own enthusiasm.
"My paintings are an emotional expressive evocative response to the savage beauty, ever changing light, colour and atmosphere of the places I paint. I try to absorb the scenes before me with all my senses. The visual delight of a transient mist enveloping the cliffs and beyond. To become saturated and soaking wet, while standing still drinking in the landscape before me – when it isn't even raining! The air is thick with moisture magically shifting flowing over all in its path. The beauty and dramatic shifts in light, mood and form make it difficult not the believe in a higher being – Cloe Cloherty
*Images from The Artists Studio
About Margaret Egan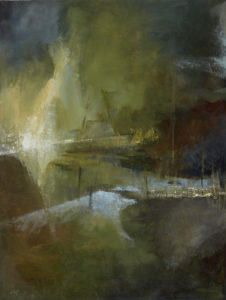 Born in New Ross, Co. Wexford, Irish artist Margaret Egan now lives and works in the seaside town of Monkstown, Dublin.
After qualifying as a draftswoman, Margaret studied under the famous Breton sculptor, Yann Renard Goulet, RHA from 1963–67 and then continued her education at the National College of Art in Dublin from 1967-69.
Margaret has been exhibiting her work since then, both at home and abroad and has received much critical acclaim. Her work has been exhibited in Ireland, England Wales, France, Portugal, New York and Singapore.
About her work Margaret says:
For me my work is a living thing, it never stops, it embraces and fascinates. I am influenced by everything; even the apparent boredom of things has a meaning. The link between people and landscape intrigues me and the endless layers that lie therein.
For Margaret "landscapes are like people-moody, complex, dynamic and never finite".
(Gerry Walker, Irish Arts Review)
About Derek Fitzpatrick
Dublin artist Derek Fitzpatrick graduated from the Dublin Institute of Technology with a BA (Hons) in Fine Art in 2006. He is currently exhibiting with the Trinity gallery in Dublin and was represented by the Glasthule Gallery in Dublin 2017-2018. He has exhibited on various occasions in solo and group shows, including the Royal Ulster Academy, Villa Tittoni (Milan), Hallward gallery, Glasthule gallery, Chimera gallery and various art centres and galleries around Ireland. His work features in public collections including that of OPW, Ardstone Capital, Unicorn Restaurant and Cavan Arts Centre as well as numerous private collections in Ireland, UK, Germany and USA. He won The Cill Rialaig Studio Residency 'Scholarship' for a Young Emerging Artist in 2006 and was shortlisted for Backstage Theatre Emerging Artists Award.