TUTORNathaniel Joseph McAuley
DATE1st February - 22nd March
TIMESStart: 7pm - 9pm
LOCATIONONLINE
COST£100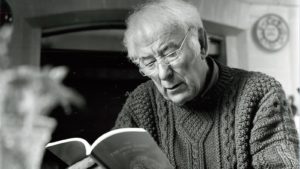 Join poet and playwright Nathaniel Joseph McAuley in the exploration of Seamus Heaney's groundbreaking and controversial collection, North. North is an intimate and raw examination of the Northern Irish mindset during the Troubles and a deeply personal search for meaning as the poet delves into his ancient Irish heritage to find an explanation for violence. Exploring the themes of conflict, war, lineage and the Irish connection to the land, North includes many of Heaney's most iconic works, including his Singing School sequence, many of The Bog Poems and Whatever You Say, Say Nothing.
Nathaniel Joseph McAuley is a poet and playwright from Belfast, living and working in London. He was the winner of the ACNI's ACES Award in 2014 and currently teaches at the London Screen Academy and the Irish Cultural Centre, Hammersmith. His work has been published in the Irish Pages and Poetry Proper.

Sign up to receive up to date information about events, news and offers via our Email alerts.