ICC Digital is so excited to be bringing you the world-wide 'Digital Premiere' of this award winning  short film (30 mins) –  'Traveller Tales'.
"Traveller Tales" is a powerful, inspiring  film in which we see four young Traveller boys, Ned Cash, Michael Cash, Jim Cash, Edward Cash, (from County Laois), go on a journey of discovery to seek out stories from their heritage and culture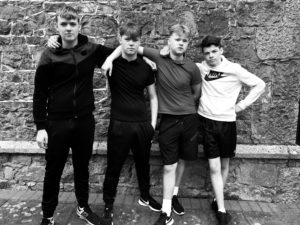 In the film the boys visit their elders, including their grandmother Maggie Cash, who tells  them tales about the old ways of the Traveller's life. She tells them about her own life on the road with her husband Ned and their horse drawn caravan and she also tells the boys old riddles which had been handed down to her, from her own mother and grandmothers. These stories inspire the boys to realise that their culture is something to be proud of and that they have the honour of preserving it, so that one day they can pass it onto their own children.
The film is directed by the acclaimed documentary filmmaker, Sé Merry Doyle and it's produced by "The Port Project"  – a Garda Youth Project which helps young people who are at risk of becoming involved in anti-social behaviour –  and it's a project which all  of the four boys attend.
What emerges is a vital, refreshing and uplifting film, which is full of hope and which honours and celebrates  Travellers culture and also gives voices to young male Travellers, who are far too often ignored or never ever given the space to even be heard
The Film Directors Note:
Sé Merry Doyle says.. "I found myself living with my daughter for a spell in Abbeyleix , a small town in the midlands of Ireland.  After screening some of my films at the local Heritage Centre I was approached by Lillian Ashe who asked would I make a film with some young Traveller boys who were attending a project in nearby Portlaoise.  As there was only a tiny budget, I said I would make it on my Iphone, but only under the condition that the boys themselves must control their own story and they would take us on a journey into their everyday lives.
That's how 'Traveller Tales' came about. I hope you enjoy.  Sé Merry Doyle
"Traveller Tales" won the prestigious "2019 Garda Award".
Directed by Sé Merry Doyle:
Produced by Shauna Williams & Lillian Ashe
A Loopline Film copyright 2020
ICC Digital is  so proud to present this 'Digital Premiere' as part of the ICC's week long celebration of Irish Traveller Culture, to mark 'Ireland's National Traveller Pride Week 2021.
This film will be available to watch for a limited period of one month only.