ARDAL O'HANLON in Conversation with Anne Flaherty
LITERARY INTERVIEWS AUTUMN 2022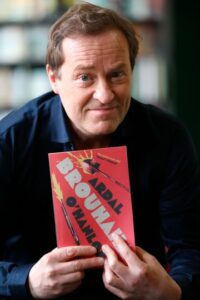 About Ardal O'Hanlon: Born in Carrickmacross, Co Monaghan, Ardal O'Hanlon is an award-winning comedian, actor, TV presenter and writer.  Ardal's comedy career began when he co-founded Ireland's first alternative comedy club, the International Comedy Cellar, in Dublin.  As an emerging stand-up comedian he won The Hackney Empire New Act of the Year in 1994. This accolade was followed a year later by his winning Comedy Newcomer of the Year at the British Comedy Awards  for his role as Father Dougal McGuire in the iconic BAFTA winning sitcom Father Ted.   As a stand-up comedian Ardal enjoys sell-out tours, regularly makes festival appearances,  has released two live DVDs and  has appeared on Live at the Apollo. 
His acting career includes appearances in Big Bad World, The Adventures of Greyfriars Bobby, Doctor Who, Skins, After Hours and Derry Girls and he has played the starring role in My Hero, Val Falvey TD and, more recently, Death in Paradise. Theatrical performances include the lead role in God of Carnage at the Gate Theatre, Dublin. He has written and presented two series on RTE – Leagues Apart and So You Want To Be Taoiseach – while his regular appearances on UK television and panel shows have included Who Do You Think You Are?, Would I Lie To You?, Whose Line Is It Anyway?,  Taskmaster and Countdown.
In addition to being widely acknowledged as one of Ireland's most acclaimed performers, Ardal has authored two fine novels. The first, the best-selling The Talk of the Town has been translated into several languages. Ardal will be joining us to discuss his second novel, Brouhaha, which was published earlier this year.   A crime novel, a black comedy and a satire, it is set in the post-Good Friday Agreement era and is  located in Tullyanna, a small fictional Irish border town. Teenager Sandra Mohan has been missing, presumed dead, for 13 years. But is she?  The reopened investigation of the incident involves several suspects, from former terrorists turned politicians to vulnerable members of the small community. Careering as it does between dark humour and state-of-the-nation metaphor, Brouhaha has been described as humane, clever, funny, gripping, complex, serious and surprising. It is both hugely entertaining and insightful.
—
About Anne Flaherty: A journalist born in London and growing up in County Clare, Anne has worked for the Irish Press in Dublin and  the Irish Times in Belfast as well as reporting from  Africa and Asia.  She is a graduate of Trinity College Dublin, and holds an MA in Anglo-Irish Writing from Queen's University Belfast and an MA in Children's Literature from the University of Surrey.
Wed 14 December 2022
Doors: 6.30pm; Starts: 7pm
Tickets: £12/£10
About Brouhaha
The second novel from the popular comedian and Father Ted star is a hard-edged black comedy of buried secrets and deadly rumours, as a suicide in an Irish border town rekindles the memory of a long-vanished girl.
Dove Connolly is dead. That's not good for anyone in Tullyanna, never mind Dove. Now his best friend Sharkey is home asking awkward questions about Dove's death, about the strange graphic novel he left behind, and, most of all, about Sandra. Sandra Mohan. Missing now for over a decade, whereabouts unknown. This, however, is a town dead-set on keeping its secrets. And Sharkey is already drawing attention from all the wrong quarters…
A mystery, a black comedy, a satire on Ireland's tangled politics of memory, Brouhaha is set in a small town on the Irish border during the uneasy transition to peace. And peace doesn't come easy in these parts.
Over the past few days, Kevin, no flies on him, had sensed a tension in the town thanks to Dove Connolly's poor decision to blow his own head off. It wasn't just the act of self-harm itself, the pointless splattering of blood and bone and brain all over his bedroom wall, that was the issue, unsettling as that was. In so doing, poor Dove had spread panic amongst the townspeople, raising all sorts of ugly questions, reviving all sorts of rumours, and inviting all sorts of unwelcome attention upon them. In Kevin's mind, there was method in Dove's madness. Showing a shocking assertiveness for possibly the first time in his life, and the last, says you, Dove blew the lid off the whole town.
Publisher: HarperCollins Publishers