BLIND FLIGHT + Q&A with Brian Keenan & John McCarthy plus Director John Furse | Led by Mark Kidel
A film biopic about two journalists taken hostage by Jihadists during Lebanon's civil war.
Fri 20 October 2023
Doors: 7.30pm; Film Starts: 8pm
Tickets: £10
BLIND FLIGHT is the film of Brian Keenan and John McCarthy's 4 1/2-year imprisonment together as hostages of Jihadists during Lebanon's civil war.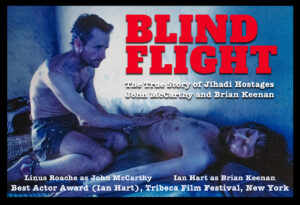 Based on Keenan's and McCarthy's No 1 best-selling accounts of their ordeal 'An Evil Cradling' and 'Some Other Rainbow' (written with Jill Morrell) the film is both a prison drama and a spiritual love story.
In the face of the most acute deprivation and under constant threat of death the Irishman and the Englishman, from completely different and potentially antagonistic backgrounds, forge a friendship which transcends all that appears to divide them. As they share their deepest memories, feelings, fears and loves they discover a capacity for inner freedom, a joy for life and a compassionate humanity which embraces even their captors.
Gripping, harrowing, bizarre and humorous BLIND FLIGHT is a deeply moving and uplifting film about personal liberation through love and understanding. It's a universal story whose themes and settings in the trouble spots of the Middle East and Northern Ireland make it exceptionally pertinent to the times we live in.
Written by first-time director John Furse in close collaboration with Brian Keenan and John McCarthy the critically acclaimed film contains two outstanding performances by Ian Hart as Keenan and Linus Roache as McCarthy.
Following this special film screening there will be a Q & A with Brian Keenan, John McCarthy and the film director John Furse. The Q&A will be led by film-maker Mark Kidel. 'This will be the first time for almost 20 years that Brian and John have appeared together to discuss the film of their story'
TRAILER: 
BLIND FLIGHT Q & A
Following this special film screening there will be a Q & A with Brian Keenan, John McCarthy and the film director John Furse. The Q&A will be led by broadcaster Mark Kidel. This will be the first time for almost 20 years that Brian and John have appeared together to discuss the film of their story
JOHN McCARTHY
Author, journalist, radio and TV broadcaster and former hostage of Jihadists in Lebanon. His books include his No 1 bestseller account of his ordeal in Some Other Rainbow co-authored with Jill Morrell, Between Extremes co-authored with fellow hostage Brian Keenan, a personal quest into his Irish ancestry A Ghost Upon Your Path and You Can't Hide The Sun: A Journey through Palestine. As broadcaster his work includes BBC1 series Island Race with comedian Sandi Toksvig, the major Sky Arts TV series Art Of Faith, and Excess Baggage and Something Understood for BBC R4. He's a Patron of Freedom From Torture and a motivational speaker.
BRIAN KEENAN
Brian Keenan (CBE) worked as a teacher, community arts worker before he became a writer. In 1985, he took up a post at the American University of Beirut where he was abducted and held hostage by Islamic terrorists for five years. Two years after his release Brian wrote an account of his captivity titled An Evil Cradling, which has since won four national and international awards; the film Blind Flight is an adaptation of Keenan's book . He has since written four other books, Between Extremes, Co-Authored with fellow Hostage John McCarthy (2000): Four Quarters of Light – A Journey through Alaska, (2004): Turlough, (1996) which tells how during his captivity, Brian was sustained by the presence of Turlough O'Carolan – the legendary blind Irish harper of the seventeenth century: I'll Tell Me Ma- A Childhood Memoir (2010)
Keenan has been a writer in residence at Trinity College in Dublin. He is currently working on a collection of short stories.
JOHN FURSE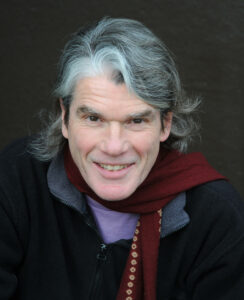 Director/writer/executive producer of 'Blind Flight', cinema film of the Brian Keenan/John McCarthy best-selling Jihadi hostages story; 'Looks That Kill, first-ever documentary on body dysmorphic disorder with producer Roger Graef for BBC1; 'Helen Bamber – On The Trail Of Torture' for BBC4 (2000). Producer/writer/deviser 'Living On The Edge' (1987), TV/cinema documentary on the dark side of Thatcher's Britain for Central TV and 'The Time Of Our Lives' (1994), a state-of-the nation documentary for BBC2, both with director Michael Grigsby. Recent work as director/producer/writer includes feature documentary 'Groundswell: The Grassroots Battle For The NHS And Democracy 2014-2019'; short documentary 'Not In Our Name: The Psychological Torture Of Julian Assange' (2020).
MARK KIDEL – Q & A host
Recognised as one of the world's leading documentary film makers on the arts and music with subjects ranging from Rod Stewart, Ravi Shankar, Boy George, Elvis Costello,Tricky and Alfred Brendel to Balthus, Norman Foster, Derek Jarman, Brian Clarke and Bill Viola. Other subjects include 'Hungary 1956: Our Revolution', 'Kind Of Blue: An Essay On Melancholia and Depression' and 'The Architecture of the Imagination'. He works mainly in the UK, France, Germany and the USA. His work is regularly selected in leading international festivals as well as honoured worldwide. Recent films include a feature doc about Cary Grant (Becoming Cary Grant, Official Selection Cannes 2017) and a film about Englishness with the writer Martin Amis. He has also written widely about music, was the first rock critic of the New Statesman and is currently a reviewer for The Arts Desk. He is a co-founder with Peter Gabriel of WOMAD, the world music festival.'
Interested in Film?
You may also like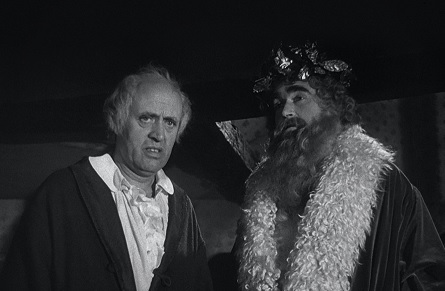 Scrooge – A Christmas Carol
Belfast-born Brian Desmond Hurst offers the standout screen version of Dickens' story and Alistair Sim the most esteemed depiction of the our favourite seasonal villain.
Wed 13 December 2023
More Info