Music Network Tour: Noriana Kennedy, Oisín Mac Diarmada, Mirella Murray and Donogh Hennessy
Music Network brings together Ireland's brightest folk musicians.
Music Network presents this newly curated line-up featuring musicians who have been integral to the success of many leading Irish traditional and folk groups. The Whileaways' Noriana Kennedy will be joined by Téada's Oisín Mac Diarmada on fiddle and Mirella Murray, accordionist with Cherish the Ladies. Donogh Hennessy, one of the founding members of Lúnasa, will further enhance the harmonic textures and bring his trademark rhythmic drive to complement the melodic explorations of this vibrant trio. With sublime songs, energetic tunes and captivating arrangements – this will be a musical cocktail to savour.
Thu 28 September - Thu 28 September 2023
19:30 Doors, 20:00 Concert
Tickets: £6 U18's, £15 standard
Noriana Kennedy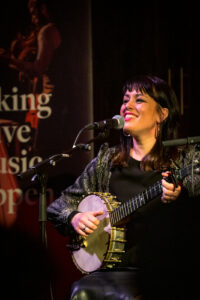 RTÉ Radio 1 Folk Awards multi-nominee Noriana Kennedyis a founding member of critically acclaimed trio The Whileaways. She has recorded four albums with the group whose engaging lyrics and melodies have seen them garner legions of fans both in Ireland and abroad. Alongside revered Galway singers Noelie McDonnell and Nicola Joyce, Noriana's trio is known for its beguiling tapestry of harmonies and beautifully crafted original songs.Former lead singer with phenomenal Irish traditional band Solas, Noriana possesses an engaging and unique songbook that crosses oceans from Waterford to America, Scotland and a thousand heart-worn places in between. With a voice that TheIrish Times described as "a knockout: translucent and tenacious in equal measure", she has earned a prominent place in Ireland's rich roots and folk music scene.Noriana performs compelling and stunning versions of old-time songs, folk ballads and original compositions, creating a sound that is truly her own. Her debut album Ebb n Flowwas noted for its "exquisite phrasing" (The Irish Times) and since then she has honed her considerable artistic skills with The Whileaways, prompting Irish Music Magazine to describe their music as "profound and insightful, tightly woven, experimental, fresh and energetic".
Oisin Mac Diarmada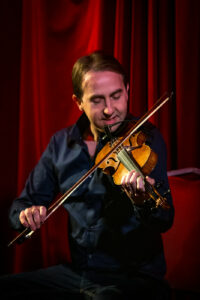 Oisin Mac Diarmadais an All-Ireland winning fiddle player, and founder of the internationally renowned group Téada. He has been described by The Irish Echo's Earle Hitchner as "one of the most gifted and creative traditional fiddlers playing today".A graduate in Music Education from Trinity College Dublin and Royal Irish Academy of Music, Oisín began playing fiddle in Clare at a young age, over time developing a deep interest in the playing style of the Sligo region having moved there at the age of 11. He formed Téada in 2001, with whom he has recorded a number of successful albums on the Gael Linn & Green Linnet labels. Highlightson the concert stage have included appearing at specialist music festivals such as Masters of Tradition in West Cork, accompanying Irish President Mary McAleese on a State visit to Romania anda guest solo appearance with the Southern Georgia Symphony Orchestra in the USA.Oisín has toured frequently in recent years with noted singer & accordion-player Séamus Begley and also with his wife Samantha Harvey (piano & dance). He was appointed Director of SCT (Scrúdu Ceol Tíre), the Traditional Irish Music Examination System administered by Comhaltas Ceoltóirí Éireann, in 2012 and has recently co-authored Fiddlers of Sligo Tunebookalong with fellow-Sligo musician Daithí Gormley.
Mirella Murray
Long-standing member of Grammy-nominated and Emmy award-winning band Cherish the Ladies, Mirella Murrayis an All-Ireland winning accordion player and has long been recognised as one of Ireland's leading traditional musicians.
Mirella grew up in Claddaghduff on the north west coast of Connemara, and music was a fundamental part of her upbringing. Encouraged by her father John Joe, a notable sean nós dancer, and accordion teacher Mary Finn, she blossomed with enormous support from champion of the arts and long-time director of Clifden Arts Festival, Brendan Flynn. Collaborations with superb musicians such as fiddlers Liz Kane and Tola Custy saw her tour throughout Ireland, Europe and the USA. Her album Three Sunsetswith Tola Custy received rave reviews and was voted in the top five albums of 2002 by The Irish Times. The duo was nominated for Best Newcomersby Irish Music Magazine in 2003.
As well as being a member of Cherish the Ladies for nineteen years, Mirella has toured the world with an array of wonderful musicians including Laoise Kelly, Mary Shannon, Collette O'Leary, Michelle O'Brien, Carl Hession & Rhythm of the Dance, John Joe Kelly and Jarlath McTernan.
Donogh Hennessy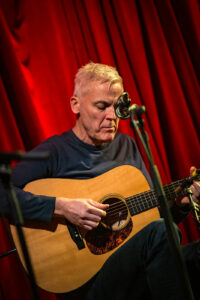 Founding member of Irish super-group Lúnasa, Donogh Hennessyis an award-winning guitarist and composer. He was born in Dublin and is now based in Dingle in West Kerry. As a member of Lúnasa, described by the Irish Voice as "the hottest Irish acoustic band on the planet", Donogh played a key role in crafting the band's complex arrangements and shaping their unique sound which pushed the boundaries of traditional music and energised audiences the world over. Donogh has also performed and recorded with many other eminent Irish artists over the years such as Lumiere, Sharon Shannon, Seamus Begley, Pauline Scanlon, John Spillane, Damien Mullane and The Sibín Orchestra. In addition to performing live and touring, Donogh is a full-time recording engineer in his own recording studio in Dingle where he produces, records and performs with a constant array of outstanding musicians. He has recorded music for film and theatre and has written two music books including Lúnasa The Music (1996 –2001).
Watch and Listen:
Noriana Kennedy performing with The Whileaways on The Late Late Show -Roll Down Your Window
Mac Diarmada at Belfast Tradfest -Lord McDonald & The Heather Breeze
Mirella Murray with Cherish The Ladies at the TG4 Gradam Ceoil Awards -A day at the Curragh
Donogh Hennessy with Damien Mullane & Trevor Hutchinson on Fleadh TV – Master Crowley's Set
Interested in Music?
You may also like