The Early Films of Thaddeus O'Sullivan – 'December Bride' (1990); followed by a Q&A.
The ICC is delighted to present a season of films by one of Ireland's fore-most film directors and cinematographers, Thaddeus O'Sullivan.
Thaddeus has been a working filmmaker for five decades. Throughout the 1980s, he was a central figure in the first wave of Irish feature-film-making, as cinematographer on films such as Joe Comerford's 'Traveller', Pat Murphy's 'Anne Devlin' and Cathal Black's 'Pigs' and he was an early lobbyist for the development of an indigenous Irish cinema.
In this short season focussing on O'Sullivan's early works, the ICC will be screening O'Sullivan's drama-documentary, 'On a Paving Stone Mounted' (Sat July 2nd 7pm): His short film 'A Pint of Plain' plus his first drama 'The Woman Who Married Clark Gable' (Sun July 3rd 3pm): and his multi award winning feature film 'December Bride' (Sun July 3rd 7pm).
Thaddeus O'Sullivan will be doing Q&A's following each of the film screenings. He will be in conversation with Gerry Maguire, Director of 'Irish Film London'.
Sun 03 July - Sun 03 July 2022
7:00pm
Tickets: £8
About 'December Bride'
At the turn of the Centaury in Northern Ireland, Sarah, a proud, independent young woman in a tight-knit, rural Presbyterian community, causes uproar and scandal when she moves in as a housekeeper for two farming brothers, the Echlins. Fairly soon a 'menage a trois' begins and Sarah falls pregnant. When she refuses to name which of the brothers is the father and defiantly refuses to marry either of them, she stirs up outrage, shock and violence in the community.
Based on the novel by the Northern Irish Writer Sam Hanna Bell and adapted for the screen by David Rudkin, "December Bride" is a powerful, provocative, compelling and passionate film which challenges stifling religious doctrines.
Winner of 20 International Film Awards including a Special Jury Award at the 3rd Annual European Film Awards, "December Bride" features a stella cast of actors, which includes Ciarán Hinds, Donal McGann and Saskia  Reeves.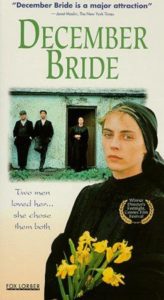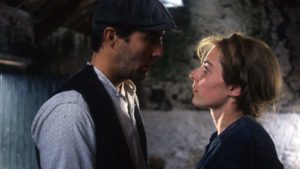 "December Bride" (A 'Film 4' Production)
Directed By Thaddeus O'Sullivan: (1990) Length 88mins
Followed by a Q&A with Thaddeus O'Sullivan
What The Press say about 'December Bride'
"Thaddeus O'Sullivan's DECEMBER BRIDE explores national conflicts within the context of the remote Northern Irish community's intense divisions. 'The three curses of Ireland: England, religion and the drink' muses the elder brother as he strives to maintain equilibrium between the enraged locals and his defiant family. O'Sullivan's careful compositions and Bruno de Keyzer's exquisite cinematography lend the film a stark, simple grandeur, which in turn emphasises the harsh, physical nature of the characters' lives. The measured pace – beautifully sustained by the performances – ensures a film of sharp insight and striking clarity". TIME OUT
"December Bride" was an important film in the development of contemporary Irish cinema, notable for its exploration of an aspect of Irish rural life far removed from the romantic whimsy of Hollywood". SCREEN ON LINE