Author Jan Carson in Conversation with Dorothy Allen
Autumn Literary Interviews at the ICC
About Jan Carson: born in Ballymena, Jan Carson is an award-winning author and community arts facilitator now based in Belfast.  Her writing includes Malcolm Orange Disappears (2014), Children's Children, (2016), two micro-fiction collections, Postcard Stories 1 and 2 (2017 & 2020) a 10-part short story collection, The Last Resort (2021) which was transmitted on BBC Radio 4,   The Fire Starters (2021) and The Raptures (2022). She has co-edited A Little Unsteadily Into Light: Dementia-Inspired Fiction, also published in 2022.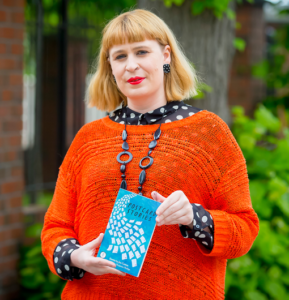 Jan has won the Harper's Bazaar short story competition in 2016 and has been shortlisted for the BBC National Story Prize and Sean O'Faolain Short Story Prize. Her novel The Fire Starters won the EU Prize for Literature for Ireland, the Kitschies Prize for Speculative Fiction and was shortlisted for the Dalkey Novel of the Year Award.
She will discuss her latest novel, The Raptures, which is set in an Evangelical Protestant community in rural Northern Ireland during the summer of 1993.  Through the voice of Hannah Adger, an anxious 11 year old only child of Evangelical Protestants who finds herself at the centre of uncanny and tragic events during the school summer holidays, The Raptures explores religious belief and strong family ties, amidst the conservatism of a hyper-masculine culture. Described as bursting with Carson's profound empathy, trademark wit  and soaring imagination The Raptures is a thoughtful and sensitive portrayal of a community which is relatively unrepresented in the canon of Northern Irish literature.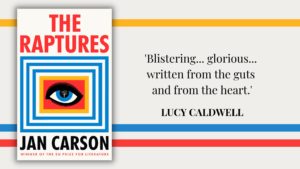 Dorothy Allen: Dorothy is an award winning journalist, currently the London correspondent of Swiss magazine Tierwelt. She is a former BBC reporter, working in documentary programmes for television (Brass Tacks; Panorama) and radio (File on Four). As a print journalist, she won a Feature Writer of the Year award while reporting for the Burton Daily Mail. She has also written a weekly television review column for The Tablet magazine. Dorothy is a former Vice Chair of the Irish Literary Society.
Wed 12 October 2022
Doors 6.30pm, Starts 7.00pm
Tickets: £8